Every injury is unique. At WCB, we help injured workers get the services they need to get back to life.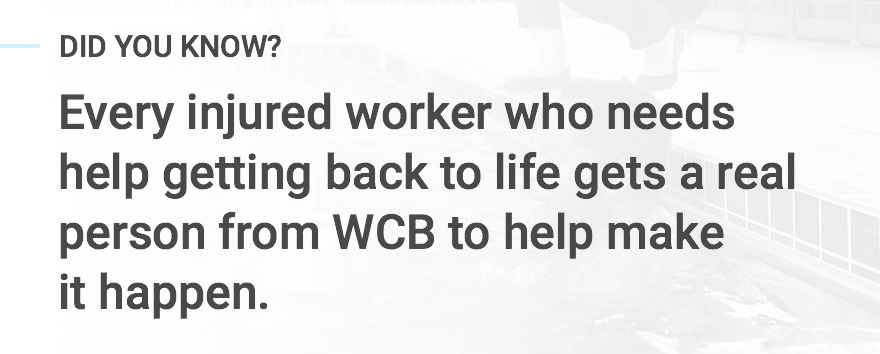 Here's the process
Workplace injuries hurt your life. We're here to help you through it, every step of the way.
Reporting your injury
Tell your employer. Tell your doctor. Tell us. The sooner you report your injury, the sooner we can help.

Claim classification and approval
Your claim will be classified, processed and—in the vast majority of cases—approved for wage replacement and treatment.

Treatment and recovery
While you're being compensated for your time away, we will help you get the treatment you need for your unique situation.

Return to work
Once you've recovered, you can return to your job—and get back to your life.
Learn more about the process
Get the treatment you need
We take care of what you need to get back to your work safely, including personalized treatment for your injury. We'll even cover expenses to help get you healthy, like travel, accommodations and home modifications.
Injured workers have accessed:
Physiotherapy
Chiropractic care
Aquatherapy
Acupuncture
Counselling
Learn more about the treatment
Real-life stories
Workplace injuries can change lives. Many workers we help are a true inspiration.
The strength of a mother's love
When Marina Cartier suffered a major crush injury to her legs, she asked her doctor if she would be able to dance again. Her son was getting married later that year, and she wanted to be able to dance with him at his wedding. With the help and support of her case manager Amanda Prosser, and her sheer will and determination, Marina was able to achieve her goal.
When one door closes...
Mohammad Setareh Kokab admits he was scared when he realized he wasn't going to be able to return to his pre-injury job, and was faced with changing careers. That didn't stop him from moving forward, though, and today the former offset press operator is happy to be "back to real life" as a heavy equipment operator in the oilsands.
Read more stories
We're happy when our clients are happy
We want to make sure injured workers get the services they need to get better, and feel good about their experience in the process. We're not always perfect, but most people who work with us return to their jobs happy.
95% of injured workers returned to work
85% of injured workers were satisfied with their experience
If you need help or have any questions, call us at
1-866-922-9221 or drop us a line.
Already have a claim? Stay connected with us on the myWCB mobile app.
Available on the App Store for iPhones and Google Play for Android devices.