If you are injured at work and need medical treatment, we're here to help you throughout your recovery. Learn more about the medical benefits you may be eligible for in this short video.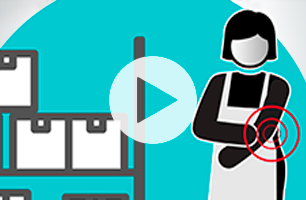 Getting the right treatment at the right time is an important part of your recovery. We help you by paying for approved medical care. This may include but is not limited to:

medications
physical therapy
chiropractic treatment
prescriptions
hospital care
dental work
optometry
The following medical expenses may be covered for treatment of your compensable injury/illness:
medically related treatments and tests
physiotherapy
chiropractic treatments
acupuncture
hospital stays
rehabilitation programs
psychology service
hospital-related costs
prescriptions*
splints
crutches**
braces
bandages
| | |
| --- | --- |
| * | Opioid medications have specific limitations. Please discuss this with your adjudicator or case manager. |
| ** | If crutches are needed, these will be supplied by the hospital and billed directly to us. If a wheelchair is needed, contact your adjudicator or case manager to discuss available options. |
Personal assistants
If you are unable to travel on your own to receive medical treatment, you may have someone help you (a personal assistant). If the personal assistant loses time from work, a fee may be paid. Written verification is required from your personal assistant's employer to be reimbursed the amount of lost wages. Before arranging this, contact your adjudicator or case manager for more information.
Severe injury support
A severe injury can be life changing. We have customized support to help severely injured workers with your unique needs. Learn more about the benefits and services you may be eligible for in this short video.
If you suffer a severe injury you may be entitled to more specialized medical benefits to help you adapt and thrive. This may include:
personal care allowance
vehicle modification
home modification
psychological counselling
wheelchair costs
Depending on the severity of your injury there may be additional medical benefits available. Your case manager will give you additional information.
Expenses not covered
Alberta Health Care: You are responsible for your Alberta Health Care coverage costs. We provide coverage only for the treatment and medical aid benefits for your compensable injury/illness. The Alberta Health Care Insurance Plan provides coverage for you and your family for all your other health issues.
Blue Cross, pension, etc.: We do not pay for non-taxable employment benefits, such as Blue Cross and pension costs (whether or not these expenses were previously handled by the employer). Discuss further options for these expenses with your employer.
Private or semiprivate hospital room: We pay public ward rates for hospitalization unless there is a medical need (as stated by a hospital room social worker, spinal cord team or consultant) for a private or semiprivate room. If you request a private or a semi-private room when it is not medically required, you or your insurance carrier will be responsible for the extra costs.
Your adjudicator or case manager will discuss with you the medical services/treatment available to help you in your recovery. They will also answer any questions you may have.

Expense reimbursement
Most medical benefits are covered up front while other approved medical benefits are reimbursed. This means you may need to pay for the service and then request a reimbursement from us. Talk to your health care provider about billing us directly for the services we have approved.

Learn more about expense reimbursement.