Modified work got Keith Bradley back to the job he loved.
Keith Bradley tells anyone who will listen to him: Don't be a rock star.
"That's how I got into trouble in the first place," he says, ruefully. "I thought because I was in great shape, I was a rock star. And that's how I hurt my back."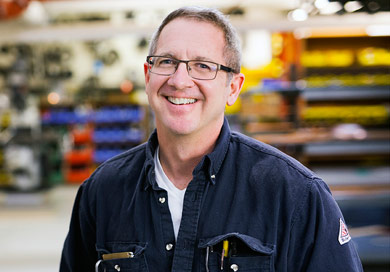 A plumber and gas fitter at Lethbridge Hospital, the 50-year-old had been training hard to prepare for his second Spartan Race, an obstacle course that invites participants to "discover their inner warrior."
A month before the race, Bradley and a co-worker were cleaning one of the hospital's main drains. When the 53-metre-long industrial snake broke off during the process, Bradley had to reel the cable back in.
Could barely walk
"I had a sore back that night," shrugs Bradley, "but that didn't surprise me because I worked it hard that day."
The soreness soon morphed into pain, which then migrated to his leg. Two days later, the pain was so excruciating he could barely walk.
Six weeks of physiotherapy resolved nothing, nor did visits to the chiropractor and the acupuncturist. A subsequent MRI, however, revealed the problem: A herniated disc that was pressing on the nerve root of his right leg.
"I tell everybody now: 'Don't be a rock star.' That's how I got in trouble in the first place."

– Keith Bradley
Surgery a success
The solution was surgery, and even then there was no guarantee. Still, says Bradley, he wanted the best chance at getting his life back. For him, the decision was easy.
The surgery was a success. Bradley was up and moving the very next day. Eight days later he was back at work.
"I wanted to come to work," says Bradley. "I love my job. It's a great job. You spend so much time at work; you better love it, right?"
Sandi Huculak, WCB program analyst for AHS, South Zone, said at first Bradley helped out with coordinating contractors, and did some online facility training.
Modified work 'switches mindset'
Having modified work available for injured employees is critical, she says.
"Rather than focusing on their injury or disability, it switches their mindset to being back in their regular life, to where they were pre-injury," she says. "It's not only physically beneficial but also mentally beneficial to get injured workers back as quickly and safely as possible."
Eventually, Bradley was able to return to full duties.
"I'm smart about it now, and I'll be smart for the rest of my life," says Bradley. "I thought I was a big tough guy; that's why I got injured.
"And anyone can get injured if they're not smart. It doesn't matter if you're 18 or 50."
Find other stories like Keith's
Read more success stories